Choose your perfect Indian Groom Outfit: The Ultimate Guide
Indian weddings are grandeur events with splendid ambiance and traditional rituals celebrating the new beginning of the bride and groom. The wedding ceremonies are vibrant with grand tapestry where the couple's attire takes special attention in setting the tone of the celebration. While meticulous attention is given to designing the bridal costume, the groom's outfit gets less attention. However, finding the right outfit for the groom is equally important.  It reflects his personality, taste, and cultural heritage and creates a strong first impression on the guests. With so many outfit choices available, selecting the right Indian groom outfit can be daunting. 
Don't worry. With our comprehensive guide, we help you to select the ideal attire for your special day. We cover all the outfit choices from traditional to contemporary, from Northern to Southern, along with helpful tips for selecting the most charming outfit for you. We also guide you to find the right accessories to elevate your look and give regal sophistication. 
First, let's have a look at different Indian outfit choices available for you! 
Indo-Western Outfits: Modern Sherwani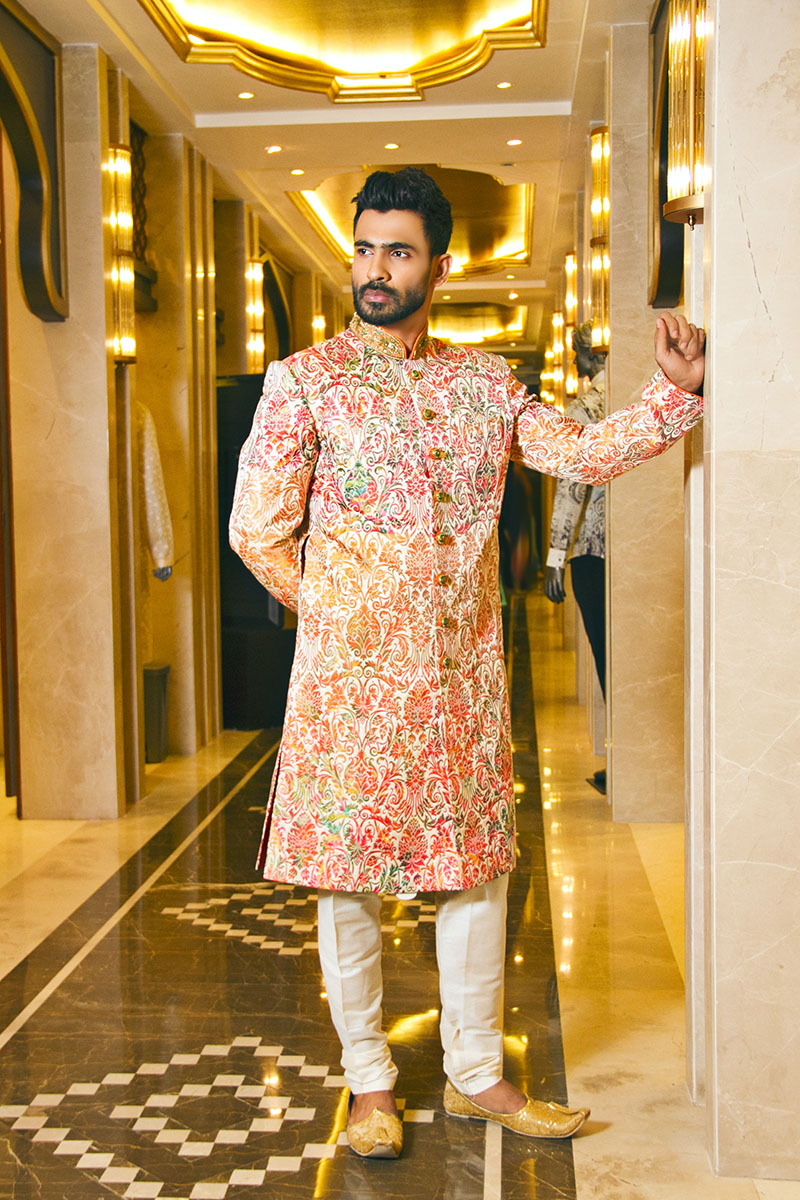 The modern Sherwani is ideal for a groom who wants to show their modern taste while paying homage to their roots. Originating in the Mughal era, Sherwanis are long coat-like garments made with luxurious fabrics like silk and velvet and adorned with embroidery and embellishments.
Modern Sherwanis are characterized by trendy cuts, tailored silhouettes, longer lengths, and buttoned or concealed closures. They are versatile garments that can be matched with many bottoms, including churidar pants, dhoti pants, or even tailored trousers, offering flexibility to the groom to select a suit that fits his personal style and comfort level. The modern Sherwani can be tailored in many colors, even unconventional hues, to complement the wedding theme and echo their style.  Modern Sherwani beautifully merges traditional elements with contemporary flair, and You can wear it for the wedding ceremony, reception, or any other event with confidence and grace.
Anarkali Sherwani outfit for Indian groom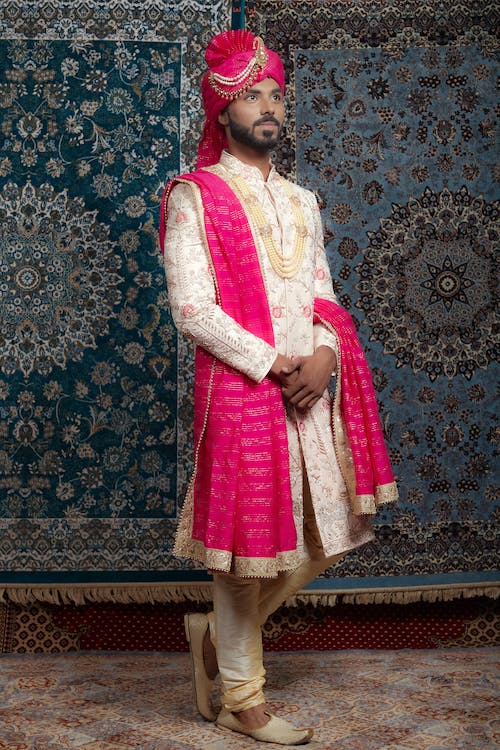 Anarkali Sherwani is a fusion of the classic Sherwani and the flowing silhouette of an Anarkali suit, exuding regal elegance and sophistication. The suit is inspired by the graceful flare of the Mughal era Anarkali dress worn by women combined with the structured appeal of the Sherwani.
Anarkali Sherwani usually has a longer length and incorporates design elements such as zardozi or Resham embroidery work and ornaments traditionally associated with the traditional Anarkali dresses, adding a sense of movement and elegance to the groom.
Like the modern Sherwani, Anarkali Sherwani also offers a variety of fabric choices, color palettes and matches with many bottom choices. Anarkali Sherwani can be worn to a traditional ceremony or a reception, based on your preference.
If you are a groom looking to blend a unique silhouette with seamless grace and contemporary allureAccessories to wear with Anarkali Sherwani: Grooms can improve the look of Anarkali Sherwani with traditional elements like matching turbans, designer stoles, and brooches, or Western accessories such as cufflinks.
Achkan outfit for Indian groom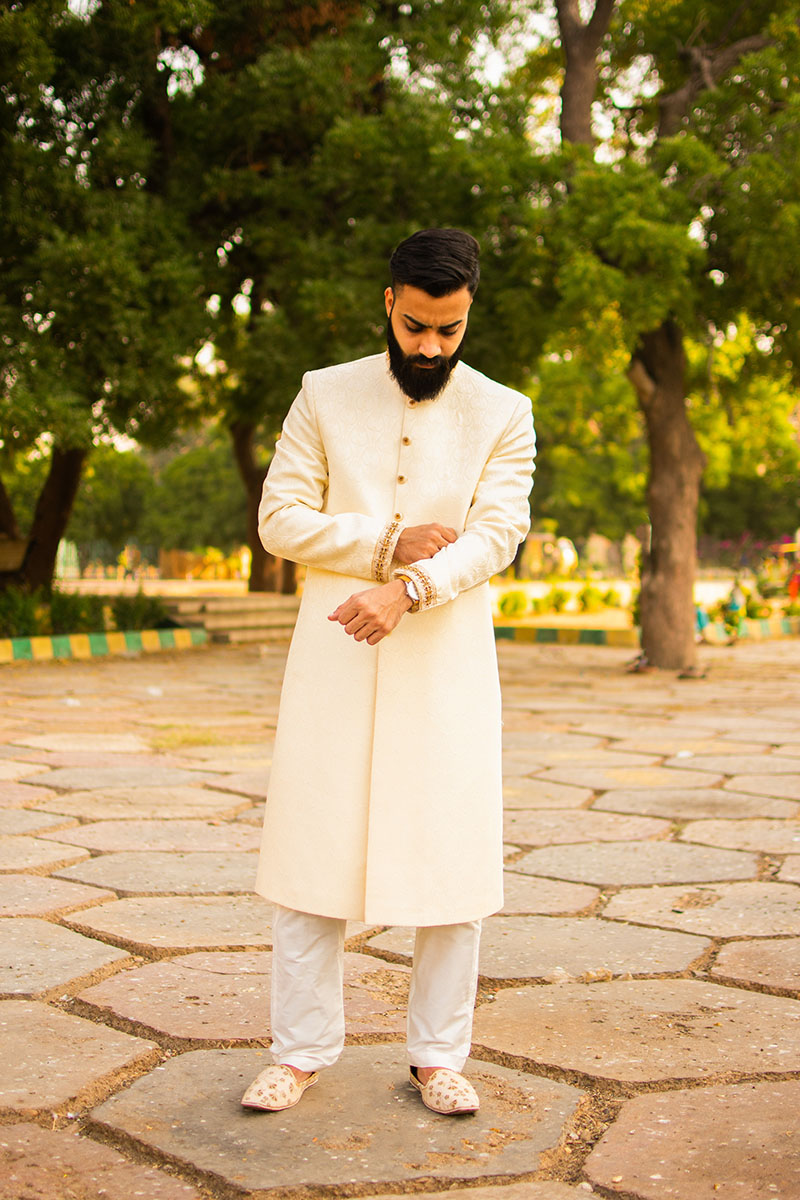 With its straight-cut silhouette and ornate embellishments, the Achkan presents a royal and majestic appearance, making it a popular choice for traditional wedding ceremonies. Achkan is a coat-like garment like sherwani. But the difference is that Achkan is shorter, features a straight-cut silhouette, and is less flare than sherwani. 
Achkan highlights the groom's stature and creates a commanding presence. The traditional Achkan features intricate embroidery or woven patterns such as floral motifs, paisley, or geometric shapes. The contemporary Achkan allows grooms to modify suits to fit their individuality by adding contrasting hues, asymmetrical cuts, or creative embellishing methods.
Achkan is also a versatile coat with many bottom types, including churidar pants, dhoti pants, or tailored trousers. Achkan is also tailored in various colors to match the overall aesthetic of the wedding. Achkan is perfect for a groom who favors a more structural look with an air of regality.
Jodhpuri Suit for Indian groom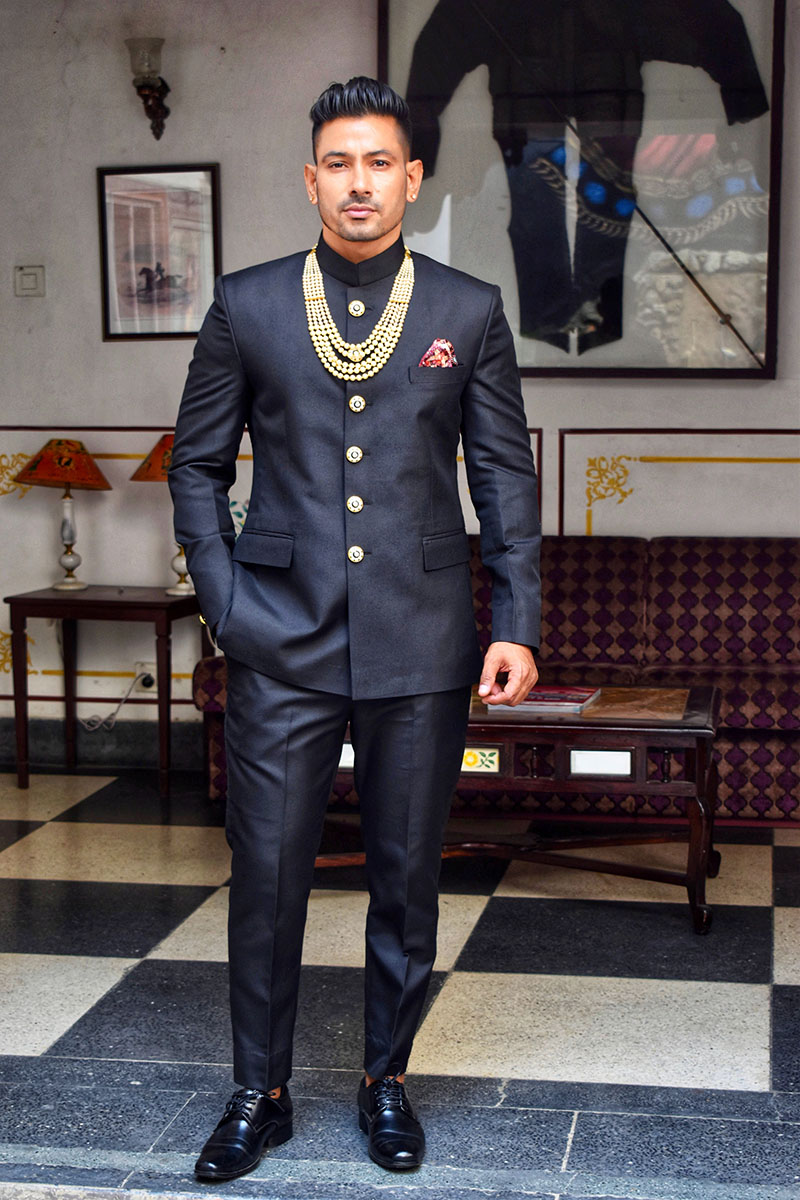 The Jodhpuri suit or Bandhgala is another choice for a groom who wants a fusion of grandeur and modernity. Originating from the state of Jodhpur, the outfit features a unique jacket called Bandhgala (which means closed neck) and matching trousers. 
It has emerged as a shorter version of Achkan, and the neck design creates a refined and polished look. Many fabrics, from opulent silk and brocade to velvet or woven materials like bandhani, can make Jodhipuri suits. Generally, a vibrant and bold color palette is favored for the Jodhpuri suit, reflecting the rich hues of Rajasthan, although neutral and pastel shades are also popular in contemporary outfits.
The jacket can be adorned with traditional embroidery or modern embellishments with unique button detailing to add a touch of opulence. It is a versatile garment for many occasions, from the wedding ceremony to the reception and other celebratory events. The suit readily blends traditional elegance with a modern sensibility, allowing grooms to make a statement with their distinctive style.
Nehru Jacket
The Nehru jacket, named after Jawaharlal Nehru, is a variation of the bandhgala popularized in the 1940s. It is short (hip-length) compared to bandhgala and features a front buttoned or concealed closure.
The silhouette has a straight cut with minimum design. Stiff and structured fabrics like khadi (had-woven cloth) and kadhi cotton are typically used for Nehru jackets.
Grooms can wear Nehru jackets for formal and semi-formal occasions paired with Western or Indian bottoms.  Nehru Jacket will be your ideal outfit choice if you yearn for a minimalistic fusion style with a modern outlook while paying homage to your Indian roots.
Kurta-Pajama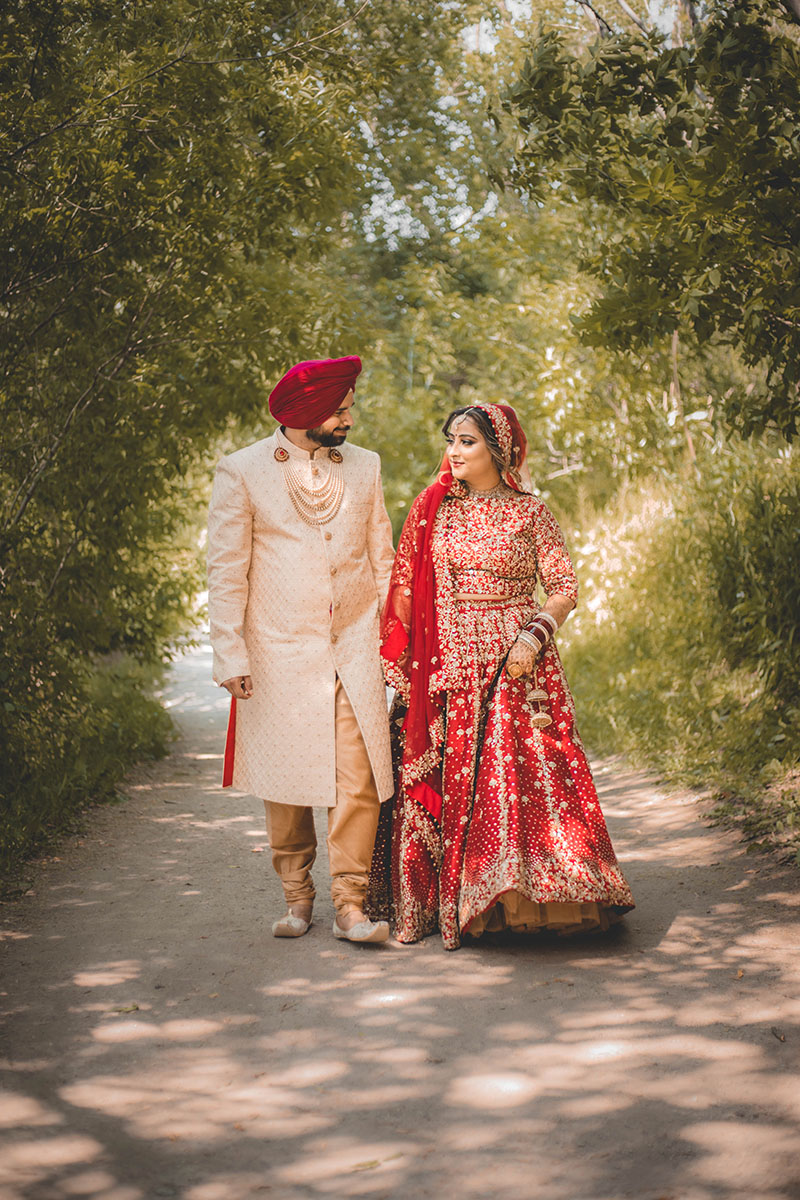 The Kurta-Pajama is the classic choice for an Indian groom, showcasing the harmonious blend of simplicity, comfort, and effortless elegance. The outfit has two pieces: a loose-fitting or somewhat tapered bottom, and a kurta, a loose-fitting tunic.
Lightweight and breathable fabrics like cotton, silk, and linen are traditionally employed to craft the outfit. If you are a groom who prioritizes comfort and tradition, Kurta-Pajama is your ideal choice to move with ease on your special day.
The outfit also offers excellent flexibility in design. The Kurta can be made with many neck designs, different lengths, with or without intricate detailing and embellishments, and in various colors depending on your style preference and the formality of the occasion. With confidence and comfort, you can wear Kurta-Pajama to a daytime or nighttime ceremony.
Dhoti and Vesti Outfit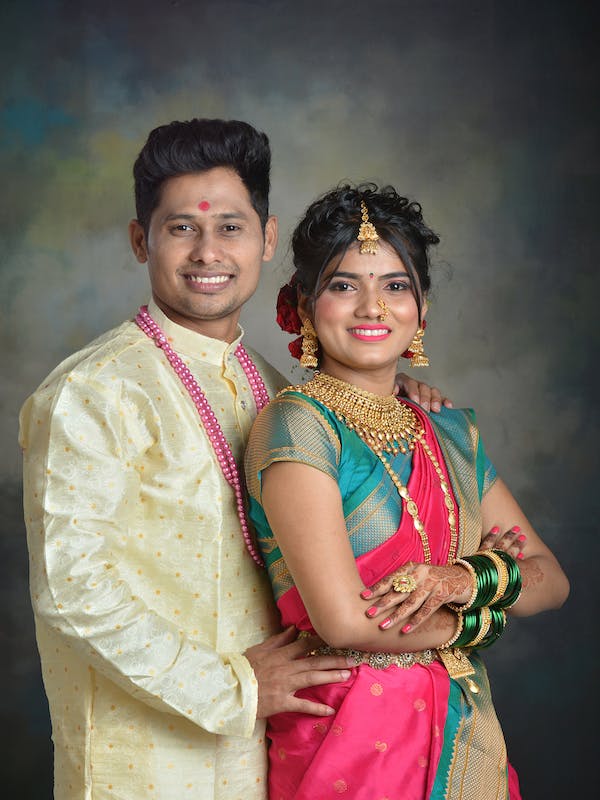 Dhoti and Vesti are the traditional attire of South Indian grooms with a graceful and cultural appeal.  It is a two-piece set made of the Dhoti, a sarong-like, unstitched cloth fastened between legs to have a trouser-like appearance and the waist, and the Vesti is a sleeveless or short-sleeved upper garment.
The dhoti is often draped gracefully with a set of pleats in the front, secured with a waistband. This draping technique highlights the groom's body and adds elegance and sophistication to his overall appearance. Traditionally Kanjivaram or Mysore silk is chosen as the fabric for the dhoti to touch it with richness.
You can select similar or contrasting materials for the Vesti to enhance visual appeal. The outfit can be decorated with borders, embroidery, or embellishment for a glorious look, and color options can vary from white to bold colors. Popular color choices of the dhoti are Reds, golds, and whites.
The Dhoti and Vesti outfit pays homage to your rich South Indian cultural heritage and creates a visual spectacle that leaves a lasting impression on their special day.
Dhoti-Kurta 
Dhoti-Kurta is another famous South Indian outfit, with a longer, loose-fitted kurta replacing Vesti. This suit is also a versatile, comfortable option for grooms seeking to balance tradition and modernity. 
Pathani Suit (Khan Suit and Pashtun Suit – Muslim Dress)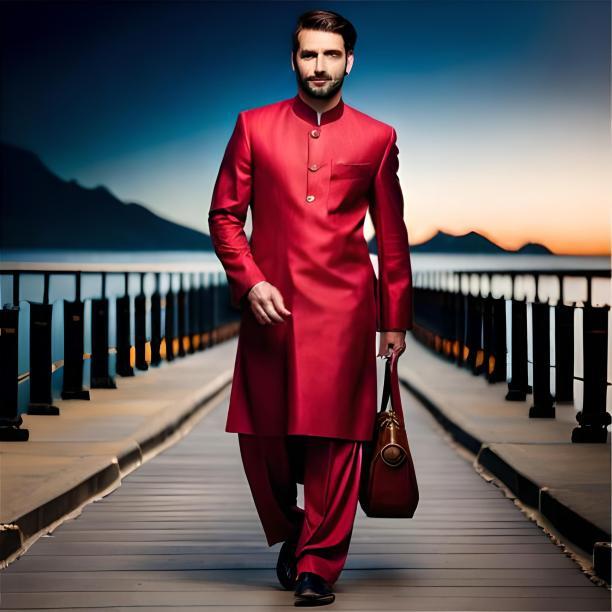 The Pathani Suit is a traditional Muslim outfit developed from the traditional Pashtun Dress of the Pashtun and Afghan communities. It is also known as the Khan Suit or Pashtun Suit and is a famous groom outfit in the Muslim community in India, Pakistan, and Afghanistan.
The Suit typically consists of Kurta and loose-fitting pants called Salwar. A waistcoat can elevate the look, depending on the groom's choice. The kurta is often knee-length or longer and comes with a straight or slightly flared silhouette creating a simple yet elegant look.
Often kurta comes collarless or with a Mandarin collar, and the front placket can be adorned with buttons or embroidery. The salwar is a relaxed, comfy pants that narrows at the ankles to give the wearer a casual yet stylish appearance.
The groom can choose cotton and cotton blends for breathable, Salwar, silk, or silk blends for a luxurious look. From muted to vivid colors can be selected for the Pathani suit based on your preference and event. For grooms who want to tribute to their Muslim traditions and values, the Pathani suit is your go-to option.
Rajputi Poshak outfit for indian groom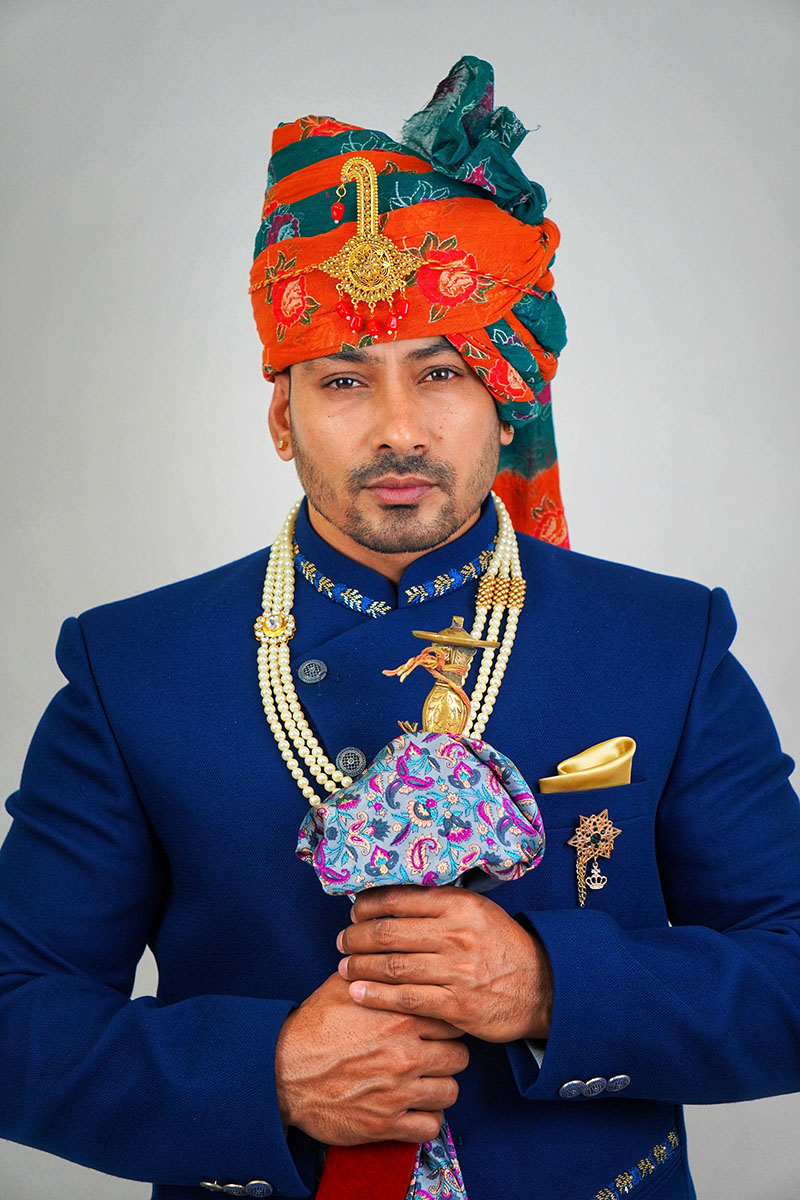 Inspired by the royal traditions of Rajasthan, Rajpiti Posak is a traditional, splendid outfit that can make any groom stand out in the crowd. The outfit symbolizes elegance, grace, and pride and contains several items, including ghagra, Kurti, and odhni(dupatta).
Ghagra is a long, flared skirt with a long, flared skirt made from luxurious fabric that is sometimes adorned with elaborate embroidery, mirror work, or zari (metallic thread). The design aims to project an air of refined femininity and regal elegance.
The kurti in Rajputi Poshak is a fitted blouse decorated with embroidery, beaded work, or embellishment. The odhni is a decorative scarf worn often around the neck made with rich materials with decorations.
Rajputi Poshak has a vibrant color palette reflecting royal attire, and deep tones of red, blue, orange, and emerald green are often favored with gold or silver accents. 
Accessorizing your outfit for Indian groom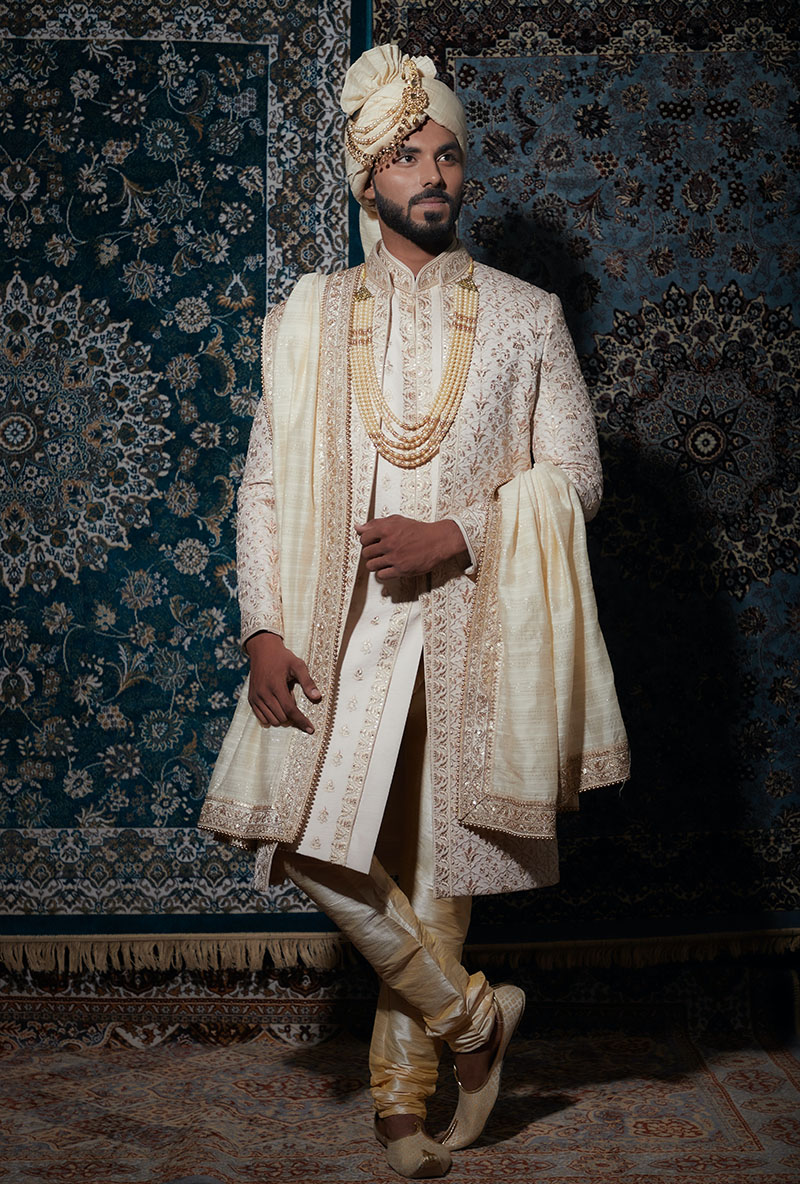 Selecting the right accessories is essential for the groom to enhance the overall look and add the final touch of glamour and sophistication it deserves. Regardless of your outfit choice, these tips help you to select your accessories to create a polished and refined appearance. 
Footwear: For traditional outfits, select footwear that compliments the style, such as Mojari shoes, Jutis, or Kolhapuri sandals. Choose shoes that match or contrast your color scheme, fabrics, and design. Grooms who selected indo-western fusion may choose Loafers, oxfords, derby shoes, monk straps, or other Western shoes. Remember, comfort is the key to selecting Shoes!
Turban or Safa: Wearing a turban elevates your outfit instantly. You can choose a turban color that matches your outfit for a contrasting color to enhance the accessory. You can decorate the turban with jewels, brooches, feathers, and embroidery for a regal look. 
Shawl or Stole: You can add a stylish shawl or stole to your outfit to add a layer of sophistication and refinement. Pick a luxurious fabric and color that will go with your attire; elaborate embroidery and decorations are great options.
Jewelry: For Indian grooms selecting jewelry is an essential aspect of the outfit as traditionally outfit contains many pieces, including necklaces, bracelets, rings, and earrings. Also, traditional jewelry comes in many styles, such as Kundan, Polki, or Meenakari. All are meticulously crafted and adorned with precious gemstones.  Choose sleek and elegant designs with minimal embellishments for modern and fusion outfits. When selecting the jewelry pieces, ensure the metal, design, and gemstones match the overall outfit. Identify the key jewelry pieces that make the most impact and highlight your personality and style. 
Pocket Square: Adding a pocket square to your jacket or Sherwani creates subtle yet stylish detail, significantly improving your overall outfit. Select a shade or design that works well with the rest of your outfit. 
Brooches and Buttons: Brooches or decorative buttons can add a touch of sophistication and individuality to your outfit. Find pieces that go well with your outfit aesthetic and color scheme.
Timepiece: Wear a watch that fits your outfit and reflects your taste. Choose a timeless, elegant timepiece that adds a refined touch to your look. Avoid wearing fake or cheap-looking watches. 
Scent: Choose a perfume that matches your style and festival vibe. Go for a long-lasting scene that leaves a lasting impression.
Remember, striking a balance is the key to elegant dressing. Avoid overdoing accessories, and always keep the overall aesthetic in mind. Each addition should complement and be harmonious to enhance your style. 
By carefully selecting and incorporating the right accessories, you can elevate your Indian groom outfit, adding those perfect finishing touches that make a statement and create a memorable and polished appearance on your special day.
Selecting the right outfit for Indian groom
You may need some clarification after going through all the available dressing options for grooms. With the help of the below tips, you can find the most suitable outfit for your special day.
1. Consider your body type, complexion, and personal style
Before selecting the outfit, understand your body type and what works best. Different outfit flatters different body types; you can try different styles before finalizing one. Sherwanis and tailored Kurta-Pyjama combos elevate a lean and fit physique by creating a sharp and elegant look. An A-line Sherwani or a well-tailored Jodhpuri suit might be a smart choice for a more robust body frame. 
When selecting the color, consider your skin tone and undertone. Different shades of the same color affect an individual's glow.
Your outfit reflects your personality. Select a company that goes well with your style. Talk with your stylist to customize the outfit according to your needs.
2. Fabric choice
Your fabric choice has a significant impact on your comfort level and appearance. Select fabrics from natural sources like cotton or linen for a stylish yet comfortable look in a summer wedding. You can go for heavy fabrics like velvet or luxurious silk for a winter wedding. Please take notice of the fabric's drape and texture, as they significantly impact the final look.
3. Coordination with the bride's attire
Complying with the same color palette as the bride creates a harmonious visual effect on the couple. Discuss the wedding's overall theme and color scheme and the bride's outfit and jewelry choices to develop a complimentary outfit for the groom. The bride's and groom's outfit is not necessarily to completely match, and you can work with complimentary colors and hues to develop outfits that work for both of you. 
Finding the right attire is striking a balance between personal choices and traditions in Indian weddings. Explore different designs, fabrics, color schemes, and jewelry early to avoid last-minute stress. Visit multiple stores, try different outfits, and seek the option of your close circle. So, you can find the perfect outfit that looks magnificent and beams you with confidence as you start your new life with the love of your life!