Add a Touch of Tradition with These Extravagant Indian Wedding Favors!
Weddings are a time of huge celebrations, and desi weddings are no less than a thrilling adventure. In the realm of Asian weddings, where heritage reigns supreme, every detail weaves a special tale. With numerous decisions to make, from selecting a venue to choosing an engagement ring, it's quite easy to get lost in the details. 
Although modern trends have revolutionized the gifting landscape, some traditions remain eternally cherished. Amidst a vibrant palette of colors, intricate decorations, and dazzling attire, there is one element that fills guests with anticipation—wedding favors. 
Sought-after Indian Wedding Favors
These precious elements possess a magical power to touch hearts and forge long-lasting memories. Wondering what these Indian wedding favors can be? 
Park all your questions, as we have got your back! Our sought-after list of memorable Indian wedding favors will help you discover the essence of tradition seamlessly. Let's begin!
2. Box Of Sweets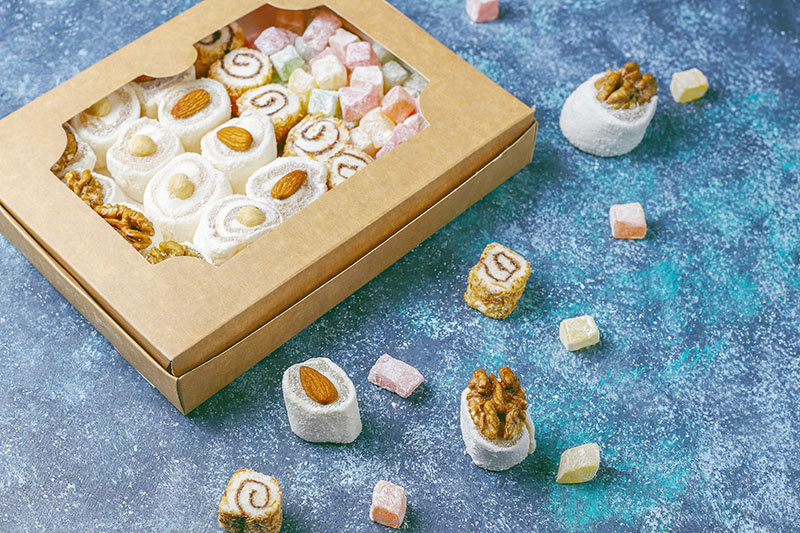 A sweet or chocolate box serves as a heartfelt gesture for Indian guests, reflecting the essence of wedding favors. The heart of this joyous tradition is beautifully represented by the concept of "Khushiyon Ka Dabba."
In a South Asian wedding, presenting sweet gifts at weddings holds deep significance. It is popularly known to bring abundant joy and delight to all. With a sweet or chocolate box in hand, guests can immerse themselves in delightful flavors, creating a truly pleasurable experience for everyone.
2. Dupattas
Traditional dupattas are highly valued as Indian wedding favors for their cultural significance, stunning beauty, and versatile nature. Adorned with beautiful designs, vibrant colors, and intricate embroidery, dupattas add elegance and enhance the appeal of any outfit. 
These timeless accessories will be treasured for generations. Offering a variety of colors and prints like leheriya and bandhani ensures guests can mix and match according to their preferences. This makes the traditional Indian wedding favors a guaranteed crowd-pleaser.
3. Quirky Potlis & Clutches
Within the vast world of accessories, trendy potlis and clutches hold a special allure. It is an undeniable truth that women possess an insatiable fondness for bags, fueling the rise of this delightful fabric potlis and clutches as beloved traditional wedding favors. 
With their vibrant array of colors and intricate patterns, they effortlessly infuse an air of refinement into any ensemble, making them highly coveted accessories that transcend generational boundaries. From weddings to joyful celebrations, these trendy potlis and clutches make impeccable gifts, blending style, cultural heritage, and a natural fashion sense.
4. Henna-Styled Candles
When it comes to Indian wedding favors, henna-styled candles stand out as an exceptional choice. The intricate designs reminiscent of traditional mehndi art add a touch of cultural elegance to these miniature candle jars. 
Not only do they serve as a source of aromatic delight for those who appreciate the therapeutic benefits of candles, but they also become symbolic keepsakes. The mesmerizing fragrance of these candles creates an ambiance of warmth and serenity, making them a cherished gift for your momentous day.
5. Silverware
This is another extravagant favor perfect to suit the heritage of the Indian weddings ceremony. In Indian traditions, silver holds a special place as a symbol of prosperity, purity, and auspiciousness. The irresistible charm of silverware makes it a cherished choice, unmatched by any other option. 
Its classic elegance and inherent appeal are enhanced by the addition of fragrant spices or tempting dried fruits. Gifting silverware to guests not only reflects the couple's desire to bestow blessings of wealth and good fortune but also honors the deep-rooted customs and traditions.
6. Agarbatti & Holder with A Personalized Tag
In Indian culture, Agarbatti (incense) creates a delightful aroma that is cherished, especially at South Asian weddings.
To honor these timeless traditions, consider gifting personalized Agarbatti incense and a beautiful holder as wedding favors. Moreover, attaching a personalized tag with the names of the bride and groom, along with their wedding date, would be a cherry on top.
7. Spices Set
Choosing spice sets for wedding favors is an exceptional choice. These aromatic spice blends of spices not only elevate tastes but also carry significant cultural value across different culinary traditions.
In Indian weddings, spices represent the heart of tradition and are treasured by all Indian mothers. Offering spice sets as wedding favors allows couples to honor their heritage and savor the wonderful flavors of Indian food.
8. Dinner Set
The concept of gifting dinner sets as traditional wedding favors is embraced by many, despite its fanciness. These elegant favors symbolize the union of two families and hold long-lasting sentimental value for newlyweds. 
Not only do older generations appreciate the tradition, but younger couples also find allure in starting their own collection of dinner sets.
9. Money Envelopes 
There's no denying it—the classic money envelopes are hands down the most beloved wedding favors and are treasured by many. Holding a special place in people's hearts, they serve as symbols of blessings and good fortune. 
In Asian traditional weddings, these small envelopes are considered indispensable, as they infuse the celebrations with a sense of tradition and warmth. They truly are the epitome of a perfect wedding favor!
10. Set of Dry Fruits
Dry fruits play an important role in Indian weddings, serving as special wedding favors. They surpass mere monetary value and possess a distinct charm. 
These delightful treats embody richness, making them perfect for any Indian weddings ceremony. Having a long shelf life ensures that they can be savored even after the wedding festivities.
How To Source The Best Indian Wedding Favors?
Now that you are well aware of the favors that are likely to enhance your Indian wedding ceremonies, the next task is to source them correctly. The last thing you would want is to end up having a poor-quality product that raises eyebrows on the big day, quite literally!
The Indian market is open to many gifting websites like WeddingSutra Shop or WedMeGood. You can simply place your order based on your exact needs. My Wedding Favors can help you source the perfect favors while you are in the States and do not want to compromise on your Indie touch!
This is also where Indian wedding planners come into the picture and take the burden off your shoulders. They have a crucial responsibility in meticulously organizing and flawlessly executing every aspect of a wedding. 
With the assistance of a wedding event planner like Wera Events, you can navigate the selection of the ideal Indian wedding flavor and surprise your loved ones! These professionals' rich expertise enables them to guide couples in choosing flavors that honor their cultural heritage and align with their personal preferences. 
Final Words
The infusion of traditional elements in an Indian wedding elevates the event, bringing a profound significance. These special Indian wedding favors flawlessly encapsulate the essence of a vibrant cultural heritage, offering guests the opportunity to cherish a tangible memento from the festivities. Embrace the beauty of tradition and create an enduring impact through these remarkable expressions of appreciation.
We at Wera Events are your go-to South Asian weddings events planner. Starting from the decor to the kind of gifts you wish to grace your guests with- we have got your back. 
Speak with our expert professionals and get a step closer to your dream wedding!